A Brief History of Holy Virgin Protection Russian Orthodox Church
The Second World War ravaged Eastern Europe. Millions perished with the advance and eventual retreat of the German front or at the hands of partisans. The survivors, citizens of the Soviet Union whose homes had been in what is now Belarus, Ukraine and Russia, found themselves in occupied Germany at the end of the war. Many of them had been captured by the German army and forced to work in German factories; others had been sent to forced-labor and prison camps. Still others had fled the advance of the Soviet Army, unwilling to submit to communist, atheist rule. All of them shared a common fate: return to the Soviet Union was a guarantee of imprisonment, if not death since Stalin viewed them all as German collaborators – traitors.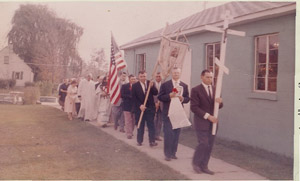 Unable, and often unwilling, to return to their homes, a large number of these Displaced Persons (DPs) received invitations to come to America. Church World Services, The Tolstoy Fund and other organizations found sponsors to help these emigrants make new homes in America starting. The first of these immigrants arrived in Goshen in 1950. Word of good jobs and affordable housing brought more and more people here.
Holy Virgin Protection Russian Orthodox Church traces its roots to 1952 when a Russian Orthodox priest from Albion, Michigan, Very Rev. John Ilinisky, visited Goshen to serve Divine Liturgy in a parishioner's home. Over the next several years, services moved from house to house.
In 1954 land was acquired for the parish on CR 21 (Indiana Avenue) just north of the intersection with CR 19, an area which soon became known as 'Little Russia.' Mr. Henry Cripe sold plots of his farmland to many of the parishioners, giving them generous terms which allowed them to purchase the land. In 1957 Russian Orthodox Archbishop Seraphim of Chicago blessed the founding of a parish in Goshen in response to an appeal by 48 Orthodox Christian organized by Fr. John.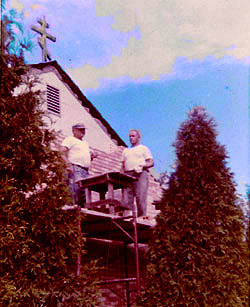 Though the opportunities were great, the needs were also not small. Extended families often lived together in the shell of a house, saving pennies to purchase the first table or couch. Work in local factories was demanding; some even labored in the Old Bag Factory.
But the faith of these righteous people was even greater. Every Friday, the first stop of many parishioners after being paid at the end of the day was the brickyard where they would purchase as many cement blocks as circumstances allowed. Men gathered on Saturday to mix mortar and lay the blocks just purchased.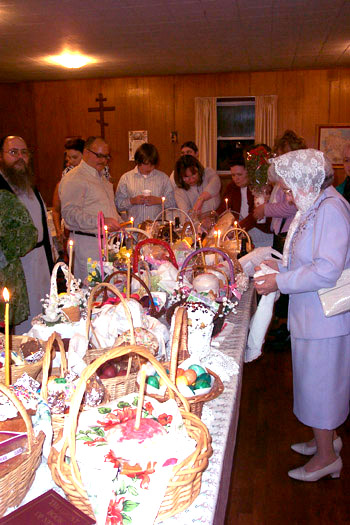 By the sweat of their own brow, Holy Virgin Protection Russian Orthodox Church was built. A parish hall was built the same way a few years later. The church was eventually faced with bricks.
A series of visiting priests from Albion, Mishawaka, Chicago and St. Joseph, MI served the needs of the growing community over the decades: Archimandrite Feofan, Archpriest John Hanchar, Priest Vladimir Strelnitsky, Hieromonk Anastasy, Priest Rafael Penzeonik, and Fr. Vasily Melnyk. Today the parish includes the children, grandchildren and even great-grandchildren of the founders, as well as more recent emigrants from Eastern Europe along with a number of converts to Orthodox Christianity.
May the sacrifice of the founders of our parish inspire us to continue their witness to
Christ's Holy Orthodox Church in Michiana!